Florida Drug and Alcohol Course Details
If you are a Florida first time driver, you can take the online Florida drug and alcohol course before you reach your 15th birthday.
This course is required for all Florida drivers who have never had a driver license. Our DHSMV-approved course is a great way to learn how you can be a safer driver by avoiding the use of alcohol and drugs and practicing safe driving strategies.
Florida teens agree, they'd rather take their drug and alcohol course online with Driver License School.com.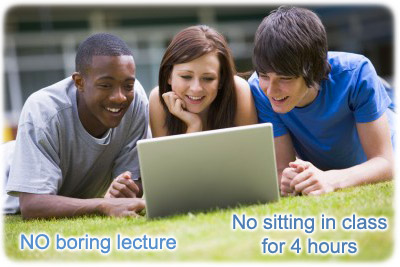 "My brother took a course last year that was so boring
he fell asleep! I'm glad your course was not like that."
– Jose R., Hialeah
No Final Exam!
There is no final exam with the START course. Instead, you just complete a short quiz at the end of each unit, and you are given unlimited attempts to pass.
The course contains eight units that are completed entirely online. When you sign up, you receive a login code that you can use to enter and exit the course. The course is available from any location with Internet access, so you can take it at home, at school, at a friend's house, wherever. When you log out of the course, your course work is saved, so you never lose any of your progress.
During the course, you will learn a great deal about drugs and alcohol, such as how these substances affect the human mind and body. We will let you in on some surprising facts and dispel some things you might have heard that just aren't true.
Finally, the course will offer alternatives to impaired (drunk or drugged) driving and will tell you the legal consequences you can expect to deal with if you choose to drive after drinking or using drugs. As you go through the course, you'll watch videos and complete interactive quizzes that will help you to retain your knowledge of all these topics.
Completion Reporting
Once you successfully complete the course, we will report your completion to the Department of Highway Safety and Motor Vehicles. When you go to the driver license or tax collector's office to apply for your license, your drug and alcohol course completion should already be in the State's database.
You will also be able to download your completion certificate in PDF format after you finish the course. We recommend that you print your certificate out and take it with you as a backup when you go to get your license.
Click "Go" to get started on your Florida drug and alcohol course.
1-800-222-9199