How the Florida Drug and Alcohol Course Works
Step 1 – Register for the Course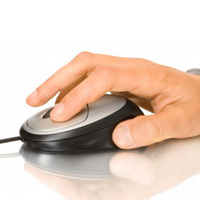 Registration is easy. Click on any of the green "Register" buttons you find on this site.
Next, click "Continue" to accept the course price, then you will see the first page of registration. Complete the online registration form and the other pages that follow. When you submit your payment and personal information to us, it is secured using SSL technology.
You will be required to pay for the course before you can begin. You can use our secure online payment form to pay by credit card or debit card for immediate access to the course. You can also pay by check or money order, but please note that you will not be able to begin the course until your payment has been processed.
Step 2 – Complete the Course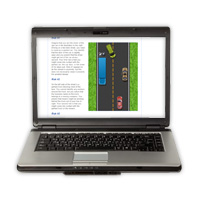 During registration, you will receive a unique login code that you can use to access the course at any time. Use your login code from any computer with an Internet connection.
As you complete each unit, our server will keep track of your progress, so you will never have to worry about losing any of your course work. There are eight units to complete and no final exam. Instead, each unit has a short quiz with unlimited attempts.
The course topics include how the human body and mind are affected by alcohol and drugs, what these substances do to a person's ability to drive, and Florida laws that relate to impaired driving. There are videos and animations throughout the course to keep you interested in the material, so it is not all reading like many other courses.
Step 3 – Receive your Certificate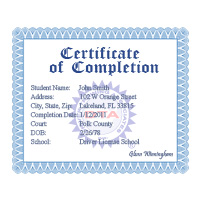 After you successfully complete the course, you will be able to download your completion certificate in PDF format. Your certificate is not required when you go to the driver's license office, but we recommend that you make a copy for your records and bring it with you as a backup when you apply for your license.
We will report your drug and alcohol course completion electronically to the DHSMV, so the driver license examiner should see it in the State's database when you go to the driver license or tax collector's office. You can also look up your course completion on the DHSMV's Traffic School Completion Check page.
Click the GO button to register for your Florida drug and alcohol course.
1-800-222-9199