Know the Answers Before You Take the Test
Studying the driver's handbook is very important. In fact, you're not going to pass your learners license test unless you do it.
But it's hard to read the entire handbook and absorb every fact. Most teens who read the Florida driver's handbook miss out on several important things they need to remember, and some of those very things could be on the test.
A better way to prepare is to read the handbook and then take an online practice test like the one offered at Driver License School.com. You can choose the type of test you need, depending on which type of license you will be applying for.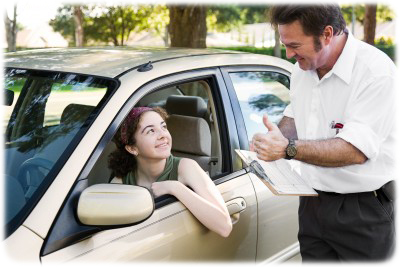 "I get nervous when I take tests, so I was really worried about my learners license test. That's why I'm so glad I found this website. I got plenty of practice from the online test and passed on my first try at the DL office."
– Linda M., Siesta Key
Choose the Test That's Right for You
50 question test – This 50-question version of the test provides an excellent overview of the types of questions that will be on your real Florida driver license road signs and road rules test.
100 question test – The 100-question version of the test expands on the 50-question version by repeating test questions less often. This means that the more times you take the test, the more different types of questions you will be exposed to.
Unlimited testing – Both the 100-question and the 50-question versions let you attempt the test an unlimited number of times. Study until you feel you're truly ready to attempt the real thing!
Standard, Motorcycle, or CDL – Select the category for the type of license you intend to get. "Standard" applies to common non-commercial vehicles such as cars and light trucks. "CDL" applies to commercial vehicles, such as large trucks and buses. "Motorcycle" applies to motorcycles and mopeds.
More Information about the Practice Test
The different versions of the online practice test have been created and are hosted by I Drive Safely®, and are offered on Driver License School.com through a partnership with Driver Training Associates, Inc.

Please note that the practice test is not a "cheat sheet" for your road signs and road rules test. Your actual test will have questions that are very similar to the ones you will see on the practice exam.
Remember that you must study the version of the Florida driver's handbook that applies to the type of license you intend to get. Don't study just the driver's handbook or just the practice test. The best way to prepare is by using both of these valuable study aids. You must also spend a great deal of time practicing behind the wheel with a licensed driver.
Questions? Call Driver License School.com. We'll be happy to help you.
1-800-222-9199